AAUW Alameda Branch and Oakmont of Cardinal Point present
Alameda Authors Series II
Janet Dawson
on her new book
The Ghost in Roomette Four
April 16, 2018, 7:00 p.m.
in the Living Room
Oakmont of Cardinal Point
2431 Mariner Square Drive
Alameda 94501
Reservations requested:
https://janetdawson-aauw2018.eventbrite.com
For more information, please contact AAUW Alameda at alameda-ca@aauw.net or see our Web site at http://alameda-ca.aauw.net/
Event telephone: 510.463.4966 Kevis Brownson (leave message)
Details: For the second year, AAUW Alameda and Oakmont of Cardinal Point present a spring series of talks featuring authors who live and write in Alameda. In April, we feature a reading and conversation with Janet Dawson on her newest release, The Ghost in Roomette Four.
If you would like a book signed by the author, you may purchase it in advance from Books Inc. or your favorite indie bookstore, and bring it with you (release date is April 7), or bring your checkbook or credit card with you to purchase books at the reading.
Look for the event in the "Living Room" near the front entrance. Free and open to the public; please reserve your spot using the tickets link.
About the book: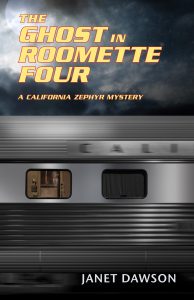 It's almost midnight on the sleek streamliner known as the California Zephyr, en route from Oakland to Chicago in 1953. Heading for her quarters, Zephyrette Jill McLeod walks through the Silver Gorge Pullman car, and sees something she can't explain. Is the shimmering light a ghost? Jill doubts the evidence of her own eyes, but soon learns that others have seen the phenomenon, too. Whatever—whoever—is haunting roomette four may be connected to an incident two months earlier, when Jill found the body of a young man there. The verdict on the death was natural causes. Now it looks like the unquiet spirit is pointing to murder.
About the author:
Janet Dawson has written twelve novels featuring Oakland private investigator Jeri Howard, beginning with Kindred Crimes, winner of the St. Martin's Press/Private Eye Writers of America Best First PI Novel Contest. The book was nominated for Shamus and Anthony awards as well. Water Signs is the most recent book in the series, and she has just started another.
Her California Zephyr historical mysteries feature protagonist Jill McLeod, a Zephyrette, or train hostess, and take place in the early 1950s. The books are Death Rides the Zephyr and Death Deals a Hand and the latest, The Ghost in Roomette Four.
Janet has also written a suspense novel, What You Wish For. Her short stories include Macavity winner "Voice Mail" and Shamus nominee "Slayer Statute." Her website is at www.janetdawson.com.
For more information, please contact AAUW Alameda at alameda-ca@aauw.net or see our Web site at http://alameda-ca.aauw.net/
Event telephone: 510.463.4966 Kevis Brownson (leave message)