Celebrating active support of Education and Equity for Women and Girls in Alameda since1962.
AAUW Alameda has been selected for statewide recognition. The award certificate reads: "Your branch's mission-based program has been chosen for the AAUW CA Wall of Fame."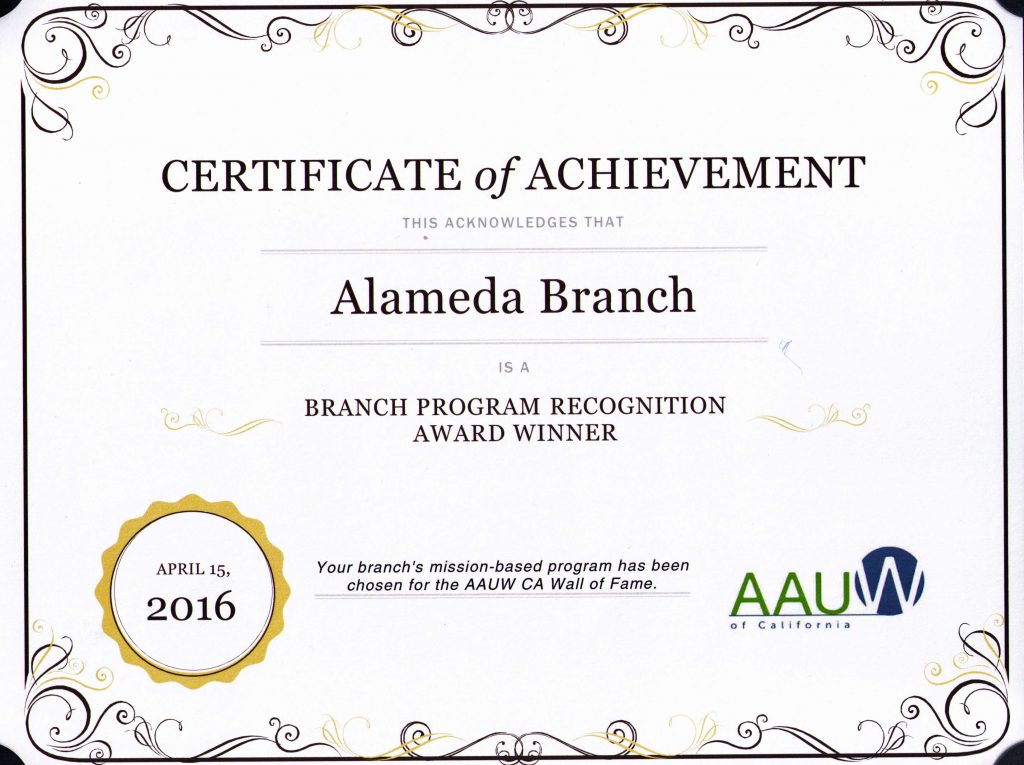 Chaired by Penny Washbourn and the Branch Outreach Committee in partnership with Alameda League of Women Voters and College of Alameda, the program "Human Trafficking" was a highly collaborative and successful effort.
See the previous article and photos about the March 16 program, Human Trafficking Seminar. On April 27, a follow-up program featured the film, It Happened Here at COA to highlight the problem of sexual assault occurring on American college campuses.
Photo and Article by Char Perlas, CoA
The March 16, 2016 Human Trafficking Seminar, hosted by the American Association of University Women, League of Women Voters and College of Alameda's Community Change and Urban Leadership (CCUL), was attended by over 80 community members (including Mayor Trish Herrera Spencer), faculty, staff and students.
President Joi Lin Blake along with our keynote speakers, District Attorney Nancy O'Malley and FBI Agent Marty Parker, emphasized the seriousness of this epidemic.
Marty Parker shared that Human Trafficking offenders range from mothers to drug dealers and, that the Human Trafficking business has a higher rate of return than selling drugs because the abused victims can be consistently 're-used'.
To find out more, go to: http://www.heatwatch.org/ , an organization spearheaded by Nancy O'Malley. Spread the word and help us stop Human Trafficking!