Celebrating active support of Education and Equity for Women and Girls in Alameda since1962.
---
Saturday, September 8, 2018 AAUW Alameda Branch Tech Trek Lunch
11:30 am Social, 12:00 pm  Lunch at Girls Inc., 1724 Santa Clara Ave., Recreation Center
Box lunches by Jay's Coffee, Teas & Treats
Welcome back to our September kickoff luncheon for our AAUW Alameda Branch 57th year. This year celebrates the 20th anniversary of the Tech Trek program . In addition to introducing our new Leadership Team, upcoming special events and our interest groups, our September meeting features presentations by our middle school Tech Trek campers. Since 1998, AAUW Tech Trek has worked to help girls explore their interests in science, technology, engineering and math (STEM).
This year, our Alameda Branch provided scholarships to five girls from Alameda schools to attend Sonoma State university for a week to live and eat in the dorms, attend lectures, learn by doing, go on outings, meet professional women working in STEM fields and have fun! The presentations by these girls are part of their experience to learn to present in front of an audience. They are prepared by our own science teacher, member Linda Preminger. Come join us to see how our program places them on the path to success. It is inspiring!
1. Turkey Cranberry with roasted onions, mayo, tomato, lettuce on a Kaiser bun
2. Chicken Avocado with roasted onions, tomato, arugula, mayonnaise, and mustard on a focaccia bun
3.BLTA-Bacon, Lettuce, Tomato, Avocado with mayo and mustard on wheat bread
4. Jay's Tuna is a blend of white albacore tuna, dill, celery, scallions, and mayo on Sourdough with mustard, lettuce, tomato, and cream cheese
5. Roasted Zucchini, hummus, basil dressing, avocado, mixed greens on whole wheat bread.
All sandwiches come with a small green salad. Lunch includes a cookie and water. Coffee will be available.
Please select one and note in the memo section of your check.
Make the check out to AAUW Alameda Branch for $17.00 and mail to:
Penny Washbourn, 501 Lagunaria Lane, Alameda 94502. pwashbou@hotmail.com 510 748-7455 for receipt by September 1. Note this is Labor Day weekend, no mail on September 3.
Please bring your checkbooks and plan to give generously to support this wonderful program.  The cost for each girl is $1,000 so we have to raise $5,000 each year and the branch members are major supporters!  If you won't be able to attend the luncheon, you can still show your support by going to the Tech Trek section of our website, scroll down and click on the "Donate" button or by sending a check.   Checks must be made out to AAUW CA SPF and can be mailed to Barbara Krummel, 3258 Liberty Ave., Alamed, CA 94501. Thanks so much for sending our girls to camp and please see the Tech Trek section below for a photo and thank you letter.
---
AAUW Mega Yard Sale 
A "Big Shout Out" to all the many AAUW members who helped with the planning, donating, sorting, pricing, staffing and shopping at this premier event. Special "kudos" to Barbara Krummel and her family for hosting the yard sale and so much more. Here is a list of additional valiant helpers: Penny Washbourn, Cindy Silva, Mary Oppedahl, Marilyn Sharron, Carolyn Queener, Karen Kenney, Mark Hamilton, Virginia Darrow, Shubba Fanse, Beth Sibley, Elizabeth McGaffey, Mary Ann Rose, Jennifer Williams, Patti Heimburger, Ellen Chesnut, and Helen Harris.
Our profit was $2,100 for the Peralta Colleges Foundation and $200 for the Education Fund. We had donations from Peets Coffee and Tea at 1901 Webster St. and Starbucks at South Shore, sandwiches from Blue Dot Café at 1910 Encinal Av. and madeleines from Donsuemore Madeleines at 2080 N Loop Rd. Please stop by and show them you appreciate their support for AAUW.
Paula Biwer, Event Coordinator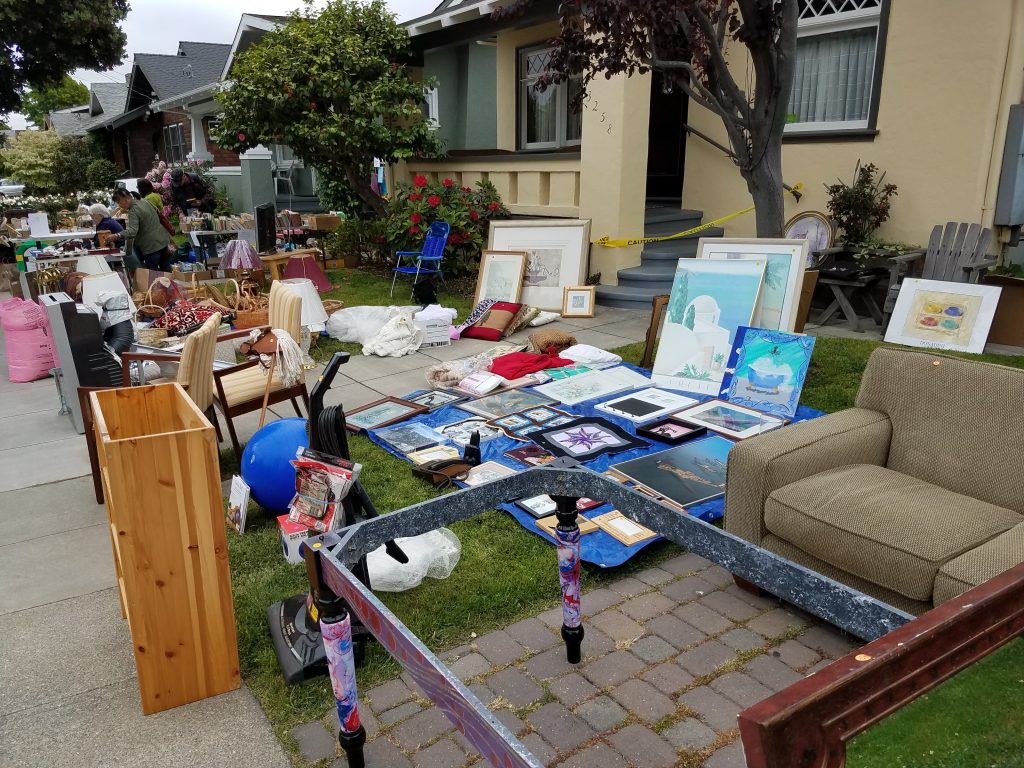 ---
SAVE THE DATES
September 8th 11:30am – Tech Trek Lunch at Girls Inc.