Celebrating active support of Education and Equity for Women and Girls in Alameda since 1962.
---
DECEMBER 1 HOLIDAY CELEBRATION LUNCH AND PARTY at
Pasta Pelican Restaurant 2455 Mariner Square Drive  11:30am
( Change of planned venue due to cost and circumstances beyond our control.)
With a gorgeous view of the water, and a lovely no-host bar and dining room and great selection of food, we will enjoy a convivial environment to host our annual Holiday Party. This is a day to splurge, dress up,  bring a loved one or friend and have fun.
Our banquet menu includes two salads, vegetables, etc
Pollo Picatta: Chicken with lemon butter sauce, sautéed mushrooms, capers and fresh basil;
Penne Spring: Asparagus, green onion, peas and baby spinach in white wine, olive oil, parmesan sauce;
Salmone di Aneto : filet of salmon topped with creamy garlic sauce;
Pasta Bolognese with beef sauce;
Cake and cookies.
It will be served buffet style, so bring your appetite and enjoy a selection.
Price is $46 (Remember there is no opportunity drawing this month) send check made out to AAUW Alameda Branch to Penny Washbourn 501 Lagunaria Lane, Alameda 94502
The FUN part!
Each participant needs to bring an unmarked wrapped gift of modest value of something you have at home…or if you need to buy something, keep it under $10.  Mark Hamilton will try to keep order as our "Silly "gift exchange gets uproarious when our selected gifts are at risk from other participants, who can steal them away! Fun will be had!
Reservations are needed by :
Saturday November 24. If you are away for Thanksgiving, make sure you email me or call and leave a message and let me know you are coming, so I can give accurate head count by Monday November 26. 510-748-7455 pwashbou@hotmail.com
---
     Our first meeting of the 2018-2019 season is coming up on October 7.
     We are a lively group of movie lovers who visit the Alameda Theatre on the first Sunday of every month, October through June, to see a current movie at an afternoon matinee (reduced ticket price). Spouses are welcome to attend. Afterwards, we walk over to Tucker's for refreshments and conversation.
How it works: please send an email to kevis.brownson at gmail.com to join the group, and then you will get an email to vote on the movie on the Friday before the event. On Saturday, you receive an email letting you know what movie we will see on Sunday. We post the event on Facebook and the Alameda Branch Web site as well.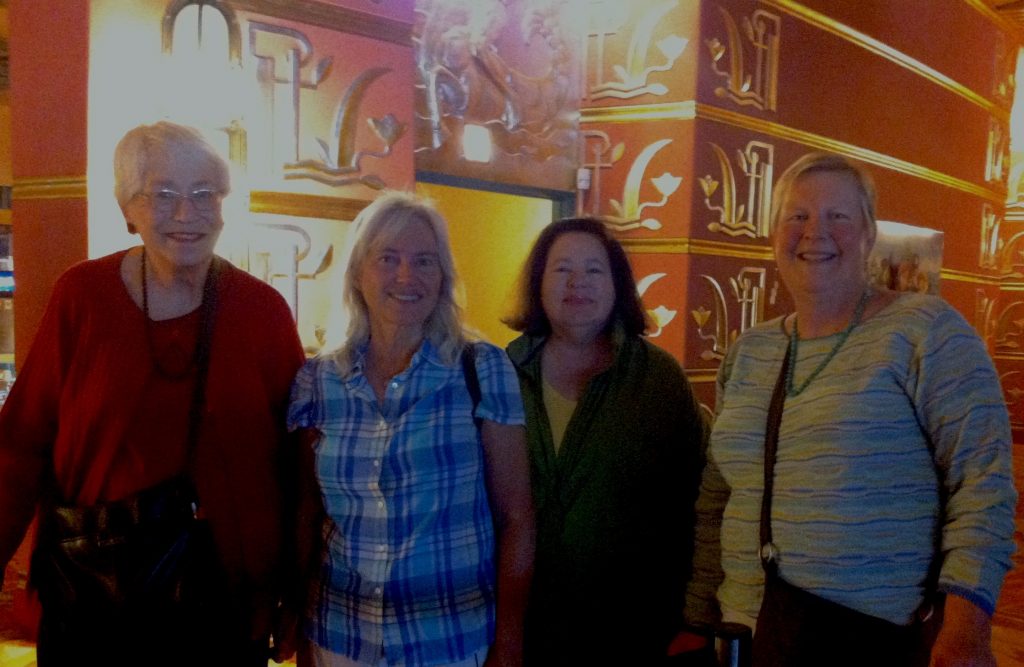 ---
AAUW Mega Yard Sale 
A "Big Shout Out" to all the many AAUW members who helped with the planning, donating, sorting, pricing, staffing and shopping at this premier event. Special "kudos" to Barbara Krummel and her family for hosting the yard sale and so much more. Here is a list of additional valiant helpers: Penny Washbourn, Cindy Silva, Mary Oppedahl, Marilyn Sharron, Carolyn Queener, Karen Kenney, Mark Hamilton, Virginia Darrow, Shubba Fanse, Beth Sibley, Elizabeth McGaffey, Mary Ann Rose, Jennifer Williams, Patti Heimburger, Ellen Chesnut, and Helen Harris.
Our profit was $2,100 for the Peralta Colleges Foundation and $200 for the Education Fund. We had donations from Peets Coffee and Tea at 1901 Webster St. and Starbucks at South Shore, sandwiches from Blue Dot Café at 1910 Encinal Av. and madeleines from Donsuemore Madeleines at 2080 N Loop Rd. Please stop by and show them you appreciate their support for AAUW.
Paula Biwer, Event Coordinator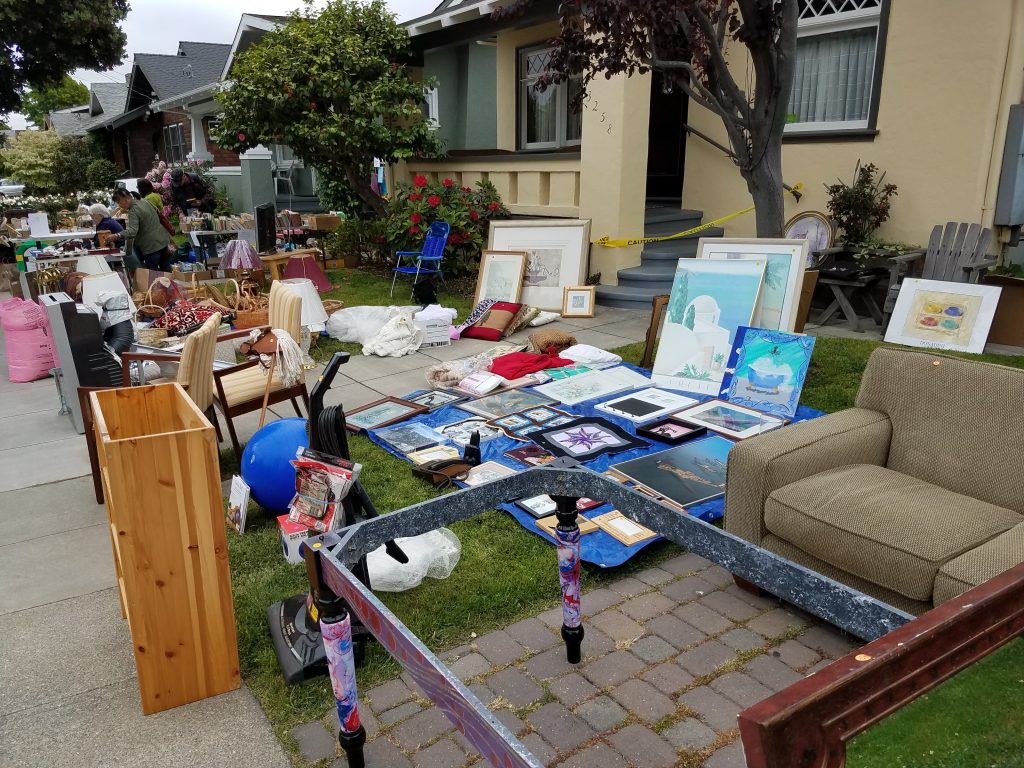 ---
SAVE THE DATES
November 10 Legal Advocacy Fund Luncheon Topic "Let's get real, we are aging: protecting ourselves and our loved ones from Elder Abuse" by Srinoi Rousseau JD