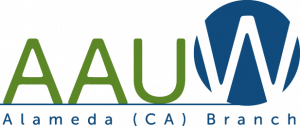 www.alameda-ca.aauw.net
WHAT IS AAUW? American Association of University Women
Empowering Women since 1881
WHO CAN JOIN? Any one with at least an Associate degree
Students free membership as affiliates ; 1 yr free on graduation.
HOW IS AAUW ORGANIZED?
-National headquarters in Washington DC
-170,000 members and supporters
-Every State ; AAUW CA 125 branches, 12,000 members
-100 campus clubs nationally, 800+students
-AAUW Alameda 85+ members
WHAT ARE AAUW PRIORITIES?
-Equity for women and girls.
-Freedom from sexual discrimination
-Education
-Health
-Fair pay
-Careers in STEM
HOW DO WE DO IT?
-Lobby for legislation.
-Being Non-partisan
-Research barriers for women and girls
-Collaborate with other organizations
WHAT DO WE RAISE $$$ FOR?
-$3.7 mil. annual graduate education scholarships and grants .
-Local scholarships for undergraduate education.
-Middle school scholarships for Tech Trek summer camps.
-Legal advocacy for pay and sexual harassment lawsuits.
-Student leadership development.
WHY JOIN?
-Engage in mission to support women
-Develop networks and friendships
-Pursue life- long learning
-Give back to community
-Have fun too!